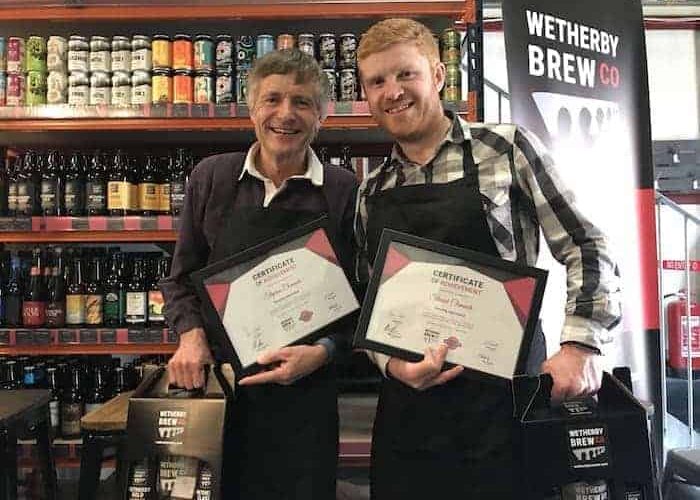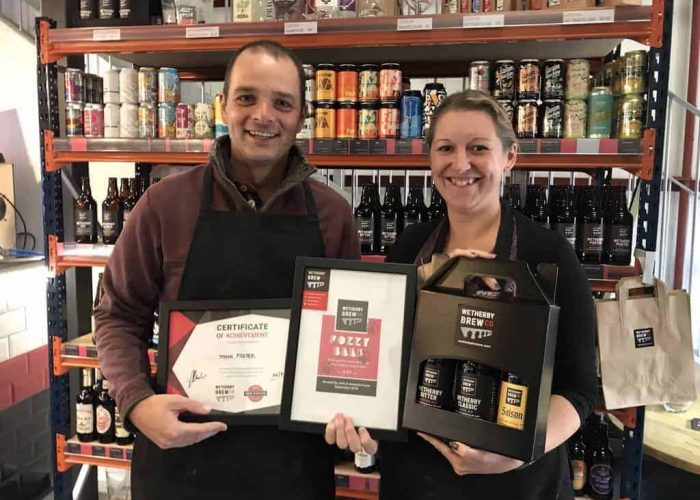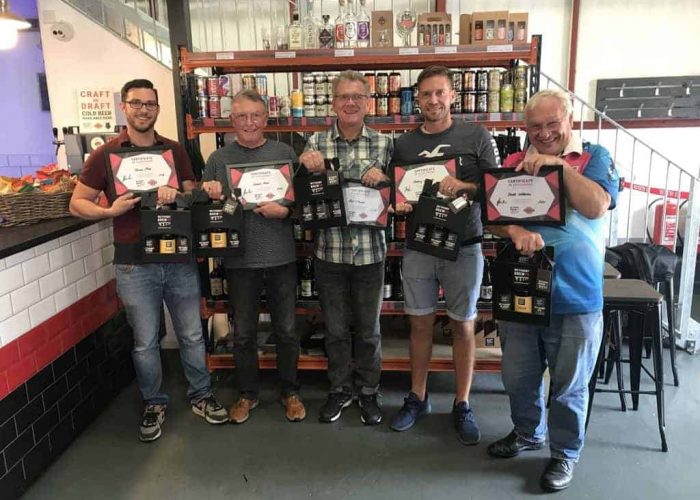 A hands-on brewing experience day including breakfast, lunch, refreshments, tuition, beer tasting and a gift pack to take home!
Whether you're a complete beginner or an accomplished home brewer, our brewing experience is both fun and informative and makes the perfect gift! Working within our brewery in Wetherby, you'll enjoy a hands-on experience crafting your own ale.
You'll also learn how to pull the perfect pint, and (best of all) sample some great tasting beers! Finally, as a memento of your visit, you'll receive a selection of bottled ales and a brewing certificate to take home.
HOW YOU'LL BE SPENDING YOUR DAY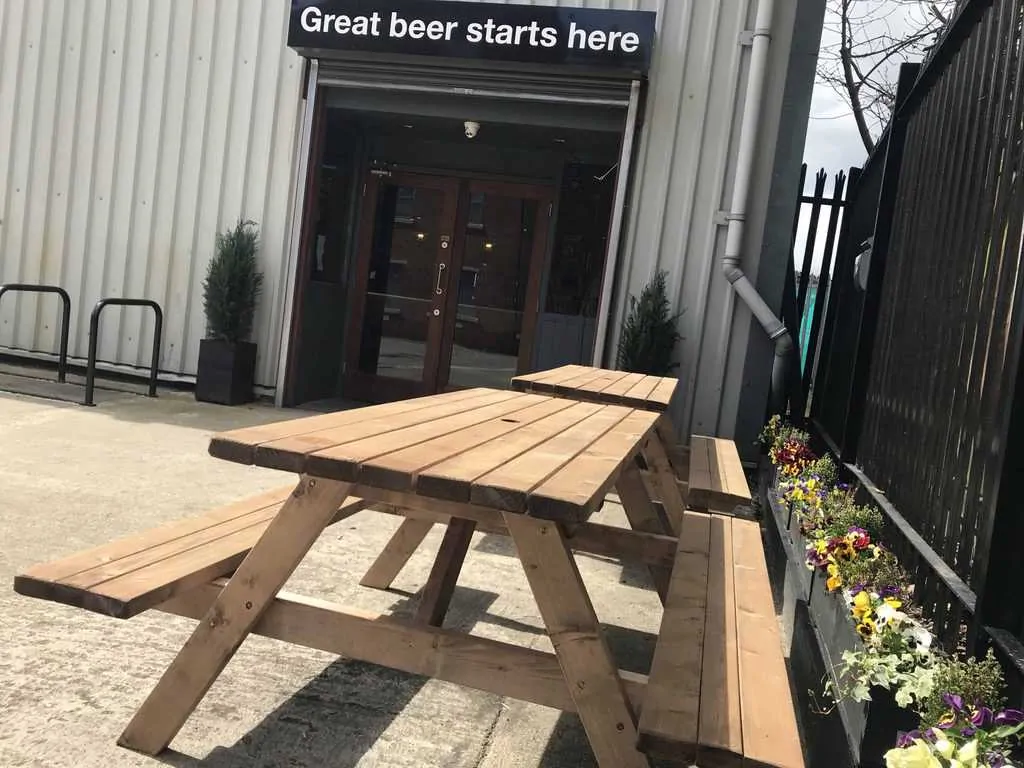 Upon arrival, you'll will be greeted by one of our team. Whilst you are enjoying your complimentary breakfast and refreshments we'll give you a short safety briefing and run you through the day's agenda.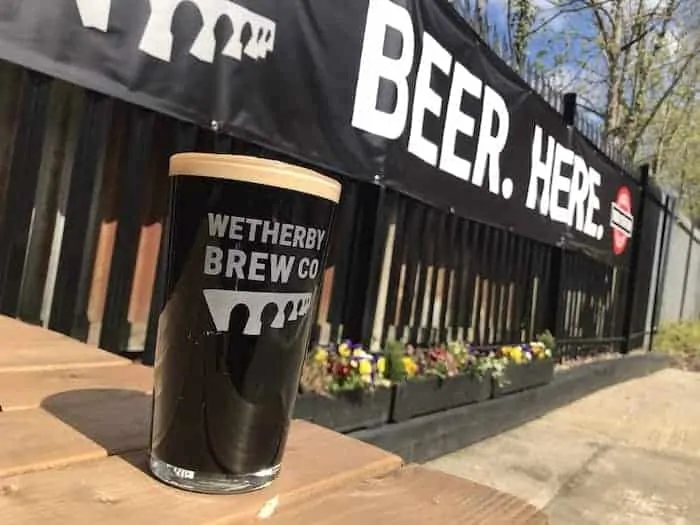 Next comes the exciting bit… deciding what to brew! We'll discuss your favourite beer(s) and you'll be introduced to the brewing ingredients. You'll also be tasked with choosing a name for your ale (make it a good one as your beer will be sold in our taproom bar!).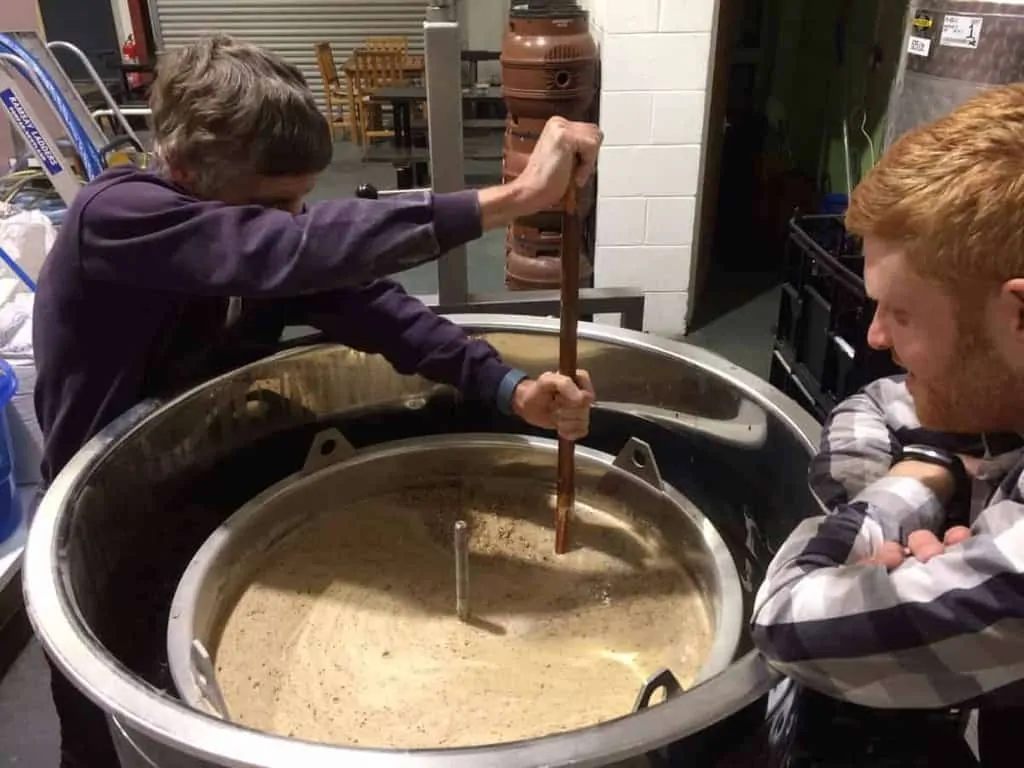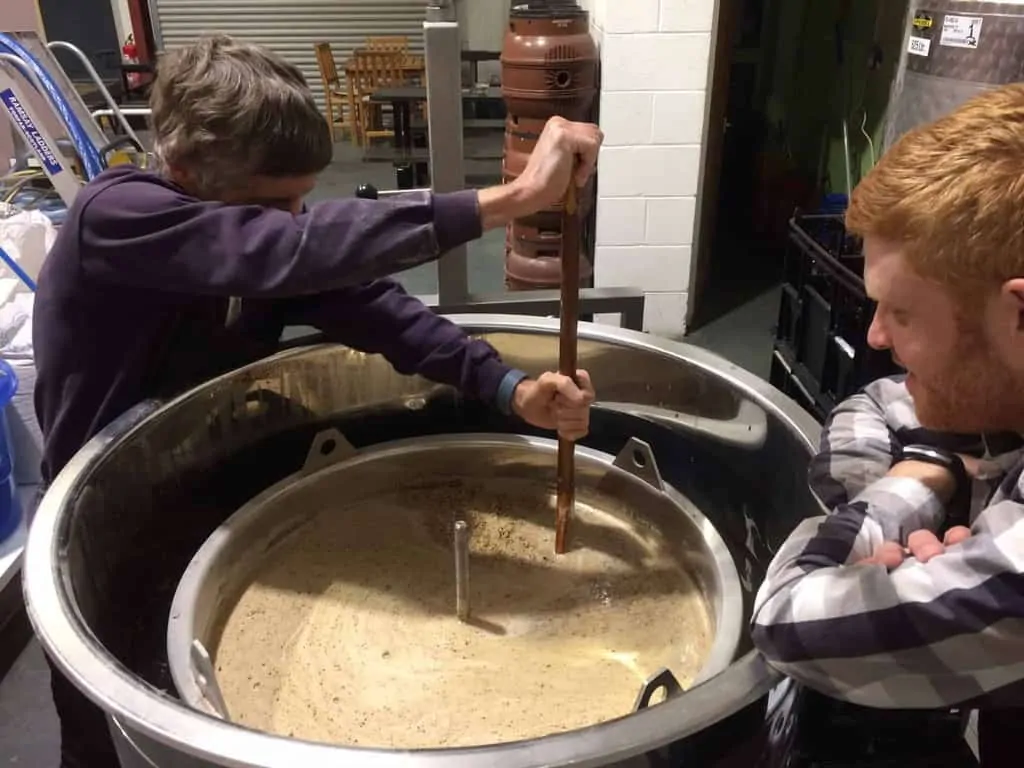 It's time to roll up your sleeves and start brewing! During the process known as the 'mash' you'll be sampling a variety of malted barleys and carefully adding these to our 200 litre Braumeister brewing kit. You'll also get the opportunity to use our mash paddle!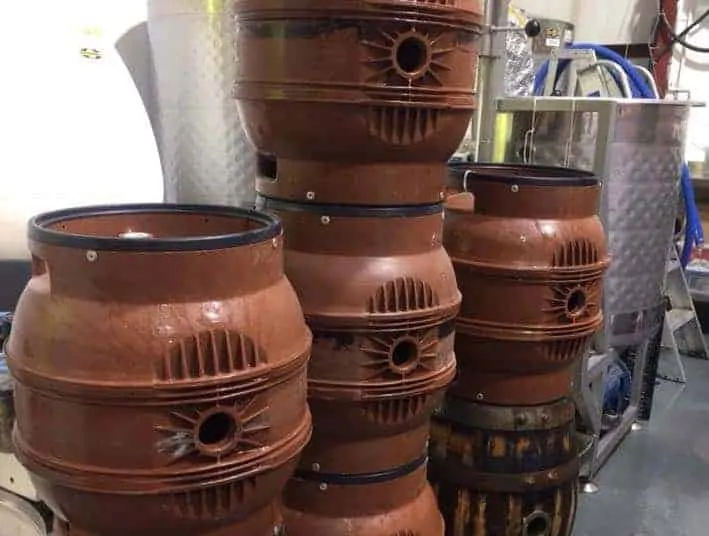 You'll then be introduced to our beer cellar, where you will be shown how casks are stored, conditioned and set up for service. Stillage, tapping, venting, serving temperatures… you'll learn it all here! No stairs are involved, our cellar is on the ground floor!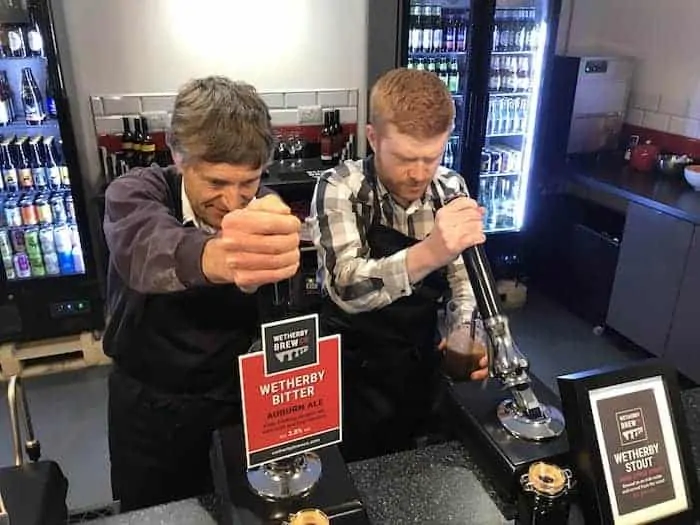 Now that you've learned how to brew and condition a great beer, it's time to learn how to serve one! You'll spend time behind our bar and will be shown how to pull the perfect pint. You'll also be given the opportunity to enjoy your complimentary pints of cask beer.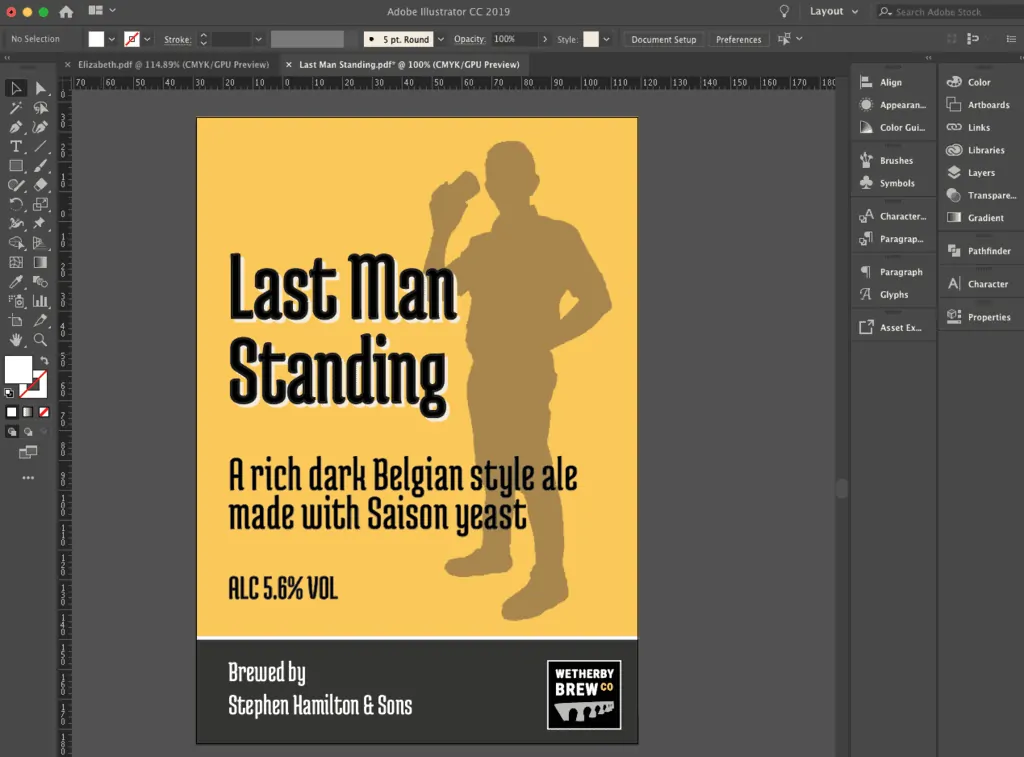 Next up, it's design time! You'll sit down with our designer, and using professional software, you'll be helping to design a bespoke pump clip for your beer. Whether you want something 'traditional', 'contemporary' or 'wild and whacky', the design is up to you!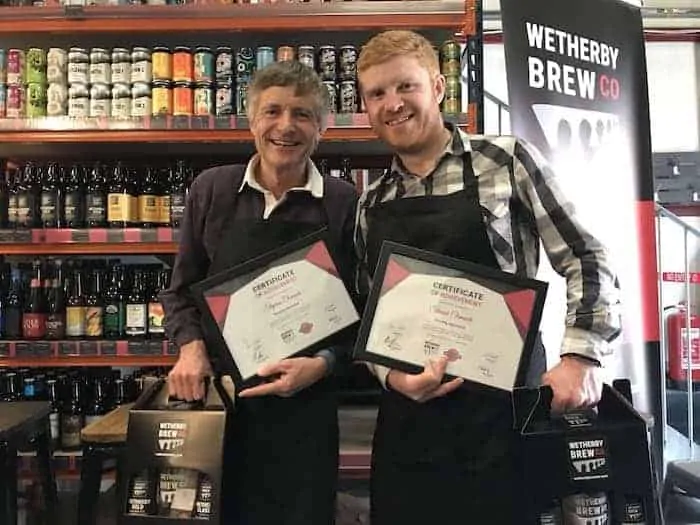 You'll receive a gift carry pack containing three bottles of Wetherby Brew Co beer of your choosing. You'll then be presented with a personalised framed brewing certificate. Finally, we'll take a photo of your group for you to share with your friends.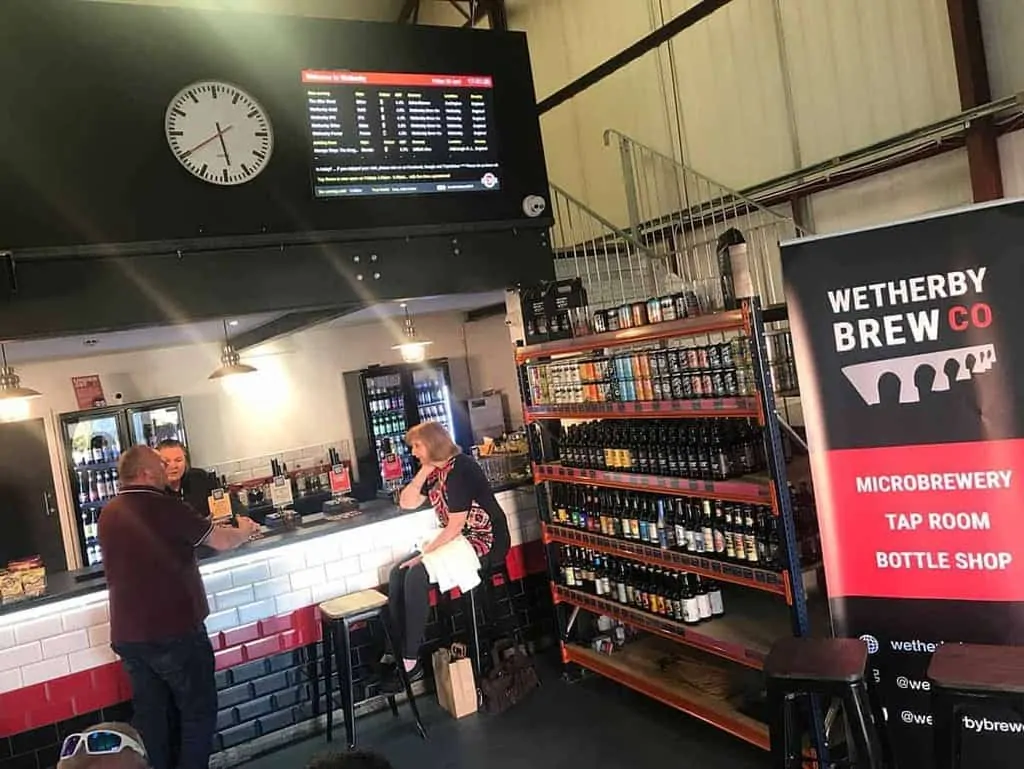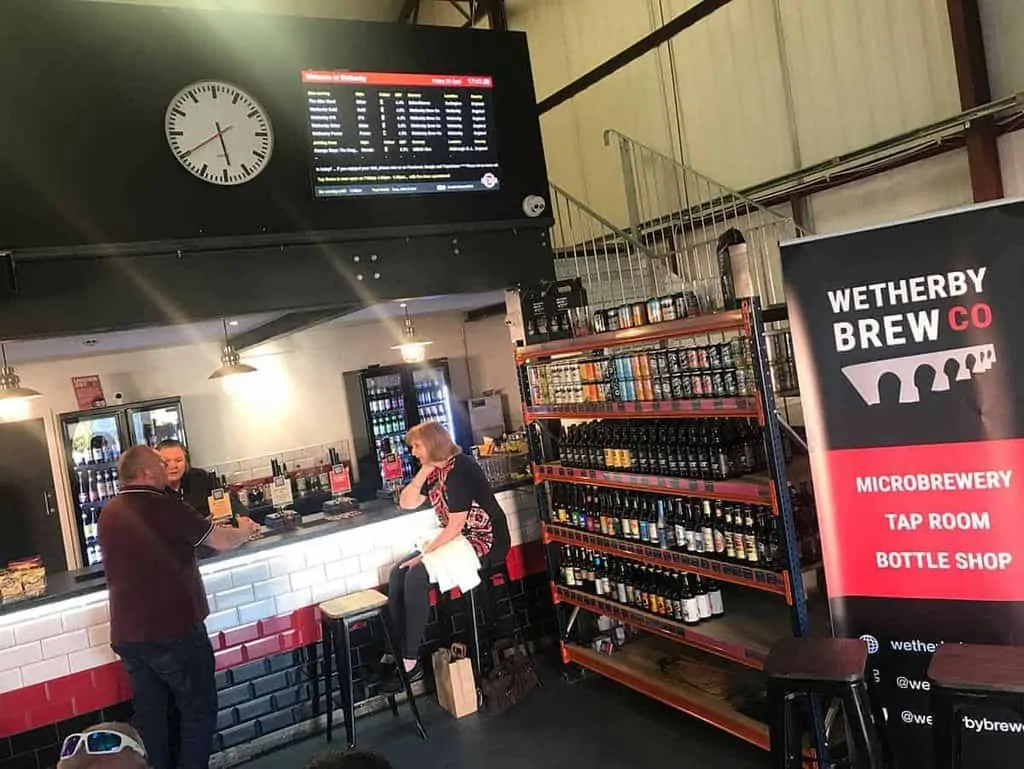 Once you've completed your experience, we encourage your family and friends to join you in our taproom where you can reflect on your brewing achievements! We serve a variety of beers, wines, spirits and soft drinks and children are permitted up until 8.00pm.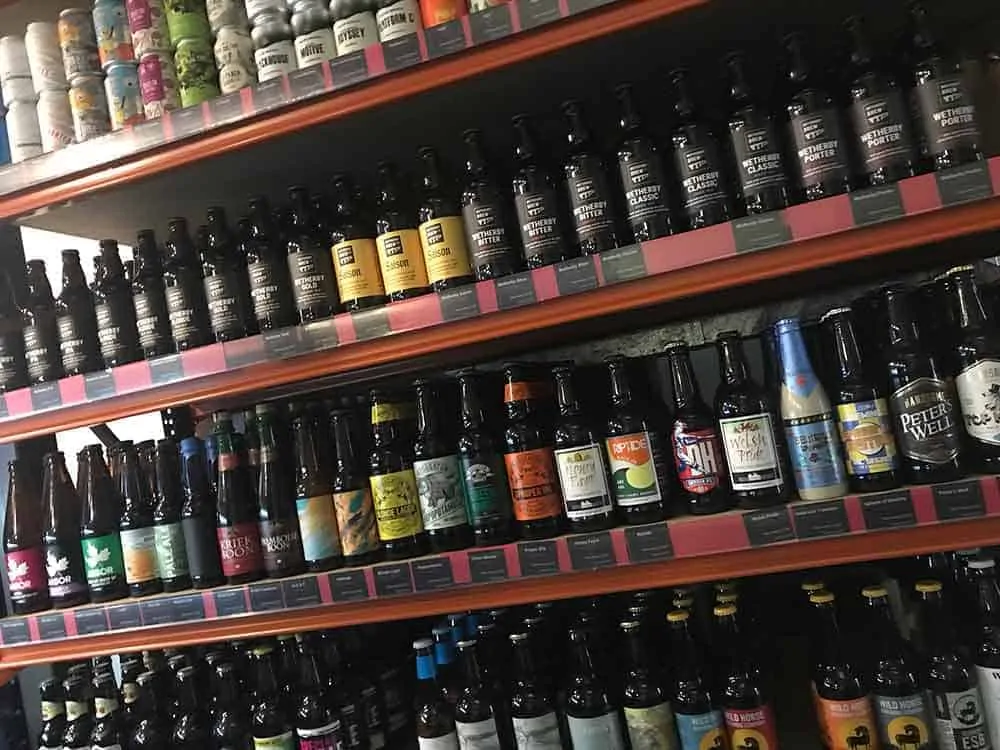 Before departing you can buy a selection of Wetherby Brew Co beers (and other fine guest bottles and cans) from our well stocked bottle shop… plus a range of branded merchandise. Better still, you'll receive a 10% discount on all purchases on the day!
Minimum 1 voucher
Maximum 10 vouchers
Choose this option if you want to keep the date open

Purchase 1-10 vouchers via our online shop

Voucher recipients make their own booking

The price is fixed at £125 per guest
Minimum 4 guests
Maximum 10 guests
Choose this option if you have a specific date in mind

Reserve your experience on our interactive calendar
The larger the group the lower the cost per person
Prices from £115 per guest (based on a group of 10)
We think you'll love our brewing experience.
Don't take our word for it though.
 Find out what our previous guests have to say!
Frequently asked questions
A gift voucher is your best option when:
The experience is for someone else
You don't have a fixed date in mind
You'd like to receive a printer-friendly PDF
You want to send the gift electronically
Please bear in mind the following:
Experience dates are subject to availability
The voucher holder will need to redeem their voucher and book their place online at a later date
Joining instructions will be sent after the booking has been made
Voucher holders will normally be part of a mixed group
Voucher purchases do not receive a group discount
Yes. If you would like to redeem more than one voucher, simply enter each voucher number (separated by a space) in the box provided when making your booking.
Yes. If you have one of our generic gift vouchers (e.g. £10, £20) you can redeem this against the cost of your brewing experience. You will not be able to do this online though, so please contact us and we will make the booking for you.
Everything you need on the day is included within your experience package. You may wish to bring a change of clothing (especially if you have a formal engagement afterwards). We'll send you a full list of what to bring in your joining instructions.
We suggest casual comfortable clothing suitable for a working environment. We recommend wearing closed shoes and avoiding baggy items and jewellery. The brewing area can also be quite cold at times, so please be prepared to 'wrap up' in the winter months. The brewing process involves dealing with raw ingredients including water, malt, hops and yeast. As such, there is a possibility your clothing may get wet and/or dusty. Whilst we don't offer dedicated changing facilities, our accessible WC can be used for changing when required.
That's up to you! Your experience includes breakfast, lunch, refreshments and two pints of cask ale. There are no other additional costs on the day, however many of our guests choose to use their guest discount to purchase additional beers and merchandise from our well-stocked bottle shop. We accept all major debit/credit cards.
Your beer will be casked and/or bottled and will be ready to drink approximately 4 weeks after your experience.
Yes. You can reserve some bottles of beer on the day of your experience and collect these when they're ready.  Alternatively (by prior arrangement) we can deliver these to a UK address of your choosing (please note that postage and packing will incur an additional cost).
Yes! Your beer will be available to enjoy from the cask at our taproom bar a few weeks after your experience (the perfect opportunity to bring along friends and family to sample your brewing prowess!). If we're not too busy, we'll even allow you back behind the bar to pull a pint for yourself… a great photo opportunity.
Yes. We welcome enquiries for corporate events and would be happy to discuss preparing a bespoke package to meet your needs (our brewing experience area is ideal for meetings of up to 25 people). We're also happy to recommend local businesses, including hotels, eateries, transport companies, venues and attractions.
Yes. You can either book online using your company credit/debit card or we can send you a VAT invoice. You can pay the invoice online or by BACs. Please note that your booking will only be secured once payment has been received. Please contact us if you have any specific requirements.
We believe in equality and inclusivity. Our taproom is wheelchair friendly and features an accessible toilet. Our brewing experience is usually hosted on the first floor of our building (there is no lift, unfortunately). Space in the brewing area is also limited. We are happy to host the experience on the ground floor and adapt it for guests with mobility issues. Please contact us if you have any special requirements and we will do our very best to cater for them.
Brews cannot exceed 6% ABV
Minimum group size is 4 people
Maximum group size is 10 people
No dogs permitted (except assistance dogs)
Refunds will only be made if we are unable to fulfil your booking
Cancellation policies apply for both individual and group bookings 
In the event of late arrival, the experience may commence without you
Bookings for less than 10 guests may be made up of several parties
Groups of 10 will receive exclusive use of our brewing experience area
We will always attempt to help you brew a beer style of your choice however this will be subject to the ingredients available
Groups made up of mixed parties will need to reach an agreement on the type of beer to be brewed. If a decision cannot be reached democratically our Head Brewer will determine this
If redeeming a single guest voucher, your experience will be part of a 'mixed group' and you will need to select a date from those shown on the redeem a gift voucher page.  
If you cancel your booking at short notice you will be charged a cancellation fee. This will be charged as a percentage of the price of your original booking and will vary according to the date you make the cancellation. 14 days or less before your experience date = 25% fee. 7 days or less = 50% fee. 2 days or less = 100% fee.